GRATISMENTALITÄT oder: symbolbilder deutscher neidkultur
A downloadable conceptual cash grab
29.10.2023

[please find the english version below]
"Probleme sind nur dornige Chancen." – Christian Lindner, stern TV, 1997
"Capital is at every level an eerie entity: conjured out of nothing, capital nonetheless exerts more influence than any allegedly substantial entity." - Mark Fisher, The Weird and the Eerie
"Die Politiker[*innen] fahren Auto weil / die wollen ihre Ruhe haben / die wollen nicht hören / was die Leute in / der Bahn sagen" – Wolfram Lotz, Die Politiker
im august 2022 beschrieb christian lindner das 9-euro-ticket als symptomatisch für eine deutsche "gratismentalität". zurecht wurde er für diese menschenverachtende aussage vielfach kritisiert. das vorliegende konzeptionelle werk, bestehend aus einem 4-seitigen, deutschsprachigen text und englischsprachiger übersetzung, sowie aus zwei beschriebenen stock-jpg-grafiken, reagiert nun darauf. es ist ein cash grab. der wert dieses werkes beläuft sich auf das jahreseinkommen von christian lindner, das 120.154,68 euro beträgt. umgerechnet wären das, stand heute, 126,928.2 USD. da das preisliche maximum von itch.io leider nur 9,999.99 USD beträgt, bleibt das eigentliche preiskonzept, das teil des werkes ist, unvollständig. vermutlich ist dies dennoch eines der teuersten werke, die sich auf dieser plattform befinden.
dies ist mein bislang teuerster text, allerdings sogleich wieder überboten vom dazugehörigen DLC bzw. zweiten teil mit dem titel DOPPEL-WUMMS, und es ist zudem ein text, den wohl nur ich selbst jemals gänzlich lesen werde. GRATISMENTALITÄT und DOPPEL-WUMMS sind sowohl ein poetisches experiment mit poltischer sprache, als auch der erste teil einer trilogie konzeptioneller arbeiten, die sich preislich und inhaltlich mit geld beschäftigen. GRATISMENTALITÄT befindet sich aufgrund des preises vermutlich auf ewig im schweben und nur von mir selbst rezipiert, es ist gepaywallt, öffentlich ohne öffentlich zu sein.
das gute ist: dieses artwork hat definitiv einmal keine bugs :)
die schriftart der FDP ist wohl übrigens futura, und die wollte ich eigentlich verwenden, allerdings hätte ich für dessen kommerzielle nutzung wohl eine lizenz erwerben müssen. diese schriftart hat auch eine interessante verbindung zum weimarer bauhaus. ich habe stattdessen eine von windows verfügbarere schriftart gewählt, die ich sonstig hübsch fand, sylfaen.
* * *
"Problems are only thorny opportunities." – Christian Lindner, stern TV, 1997
[i like how this translation sounds very similar to "horny opportunities" lol]
"Capital is at every level an eerie entity: conjured out of nothing, capital nonetheless exerts more influence than any allegedly substantial entity." - Mark Fisher, The Weird and the Eerie
"The politicians drive cars because / they want to have their peace / they don't want to hear / what the people on / the train are saying" – Wolfram Lotz, The Politicians
in august 2022, christian lindner described the 9-euro-ticket for german public transport as symptomatic for a "free-of-charge mentality". rightly, he was criticized many times for this inhuman statement. this conceptual artwork, consisting of a 4-page german text with english translation, as well as two stock-jpg-graphics with text, now reacts to lindner. it is a cash grab. the value of this work amounts to christian lindner's annual income, which has been described as 120,154.68 euros. converted, this would equal, as of today, 126,928.2 USD. since the price maximum of itch.io is unfortunately only 9,999.99 USD, the actual pricing concept, which is part of the work, remains incomplete. nevertheless, this is probably one of the most expensive works to be found on this platform.
this is my most expensive text to date, but immediately surpassed by the associated DLC or second part with the title DOPPEL-WUMMS, and a text that you will probably never fully read. GRATISMENTALITÄT and DOPPEL-WUMMS are both a poetic experimentation with political language as well as the first part of a trilogy of conceptual artworks on money. because of its price tag, GRATISMENTALITÄT will probably be forever floating and only ever experienced by myself, being paywalled, public without being public.
the good thing is: this artwork definitely has no bugs for once :)
by the way, the font of the FDP is futura, and i wanted to use it, but i would have had to buy a license for its commercial use. this font also has an interesting connection to the weimar bauhaus. instead, i chose a font available from windows that i otherwise found pretty, sylfaen.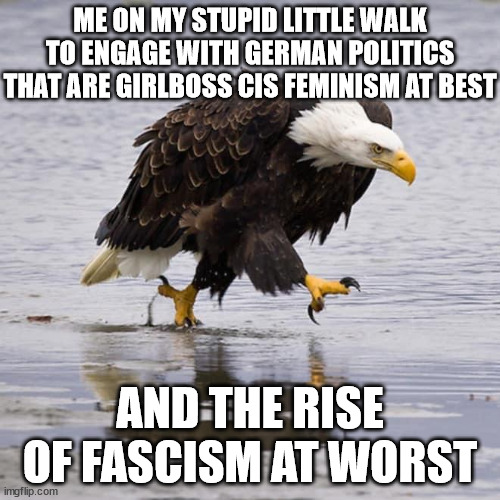 Purchase
In order to download this conceptual cash grab you must purchase it at or above the minimum price of $9,999.99 USD. You will get access to the following files:
GRATISMENTALITÄT - a conceptual text by Luka Friedland.pdf
81 kB
GRATISMENTALITÄT.jpg
110 kB
Probleme sind nur dornige Chancen.jpg
408 kB