[DLC] DOPPEL-WUMMS oder: warum poetische worte kein mietendeckel und keine enteignung und keine lösung sind
A downloadable conceptual cash grab
29.10.2023
[please find the english version below]
"Ich hab einmal bei anderer Gelegenheit gesagt, die Maßnahmen, die wir ergreifen, sind ein Wumms. [Mensch] kann sagen, das ist hier ein Doppel-Wumms." – Olaf Scholz, 2022
"Capital is at every level an eerie entity: conjured out of nothing, capital nonetheless exerts more influence than any allegedly substantial entity." - Mark Fisher, The Weird and the Eerie
"Wir befinden uns in einer Explosion, ihr Ficker[*innen]." – Wolfram Lotz, Einige Nachrichten an das All
im september 2022 beschrieb olaf scholz die regierungsmaßnahmen zur abfederung der energiekrise als "doppel-wumms". darin liegt zwar poesie und diese maßnahmen waren immerhin etwas, aber ausreichend waren diese maßnahmen natürlich nicht.
das vorliegende konzeptionelle werk, bestehend aus einem 5-seitigen, deutschsprachigen text und englischsprachiger übersetzung, reagiert nun darauf. es ist ein cash grab. der wert dieses werkes beläuft sich auf die höhe dieses doppel-wumms, damit also 200 milliarden (200.000.000.000) euro. umgerechnet wären das, stand heute, 211,203,000,000 USD. da das preisliche maximum von itch.io leider nur 9,999.99 USD beträgt, bleibt das eigentliche preiskonzept, das teil des werkes ist, unvollständig. vermutlich ist dies dennoch eines der teuersten werke, die sich auf dieser plattform befinden.
dies ist mein bislang teuerster text, sogar überbietend das werk, dessen DLC es ist bzw. dessen ersten teil mit dem titel GRATISMENTALITÄT, und es ist zudem ein text, den wohl nur ich selbst jemals gänzlich lesen werde. GRATISMENTALITÄT und DOPPEL-WUMMS sind sowohl ein poetisches experiment mit poltischer sprache, als auch der erste teil einer trilogie konzeptioneller arbeiten, die sich preislich und inhaltlich mit geld beschäftigen. DOPPEL-WUMMS befindet sich aufgrund des preises vermutlich auf ewig im schweben und nur von mir selbst rezipiert, es ist gepaywallt, öffentlich ohne öffentlich zu sein.
das gute ist: dieses artwork hat definitiv einmal keine bugs :)
* * *
"I once said on another occasion, the measures we're taking are a boom. One can say, this is a double boom." – Olaf Scholz, 2022

"Capital is at every level an eerie entity: conjured out of nothing, capital nonetheless exerts more influence than any allegedly substantial entity." - Mark Fisher, The Weird and the Eerie
"We are in an explosion, you fuckers." – Wolfram Lotz, Some Messages to the Universe
in september 2022, olaf scholz described the governmental financial relief due to the energy prices as a "double boom". therein lies poetry, and these measures were at least something, but they were of course not enough.
this conceptual artwork, consisting of a 5-page german text with english translation, now reacts to scholz. it is a cash grab. the value of this work amounts to the amount of money that was part of these governmental measures, meaning 200 billion (200.000.000.000) euros. converted, this would equal, as of today, 211,203,000,000 USD. since the price maximum of itch.io is unfortunately only 9,999.99 USD, the actual pricing concept, which is part of the work, remains incomplete. nevertheless, this is probably one of the most expensive works to be found on this platform.
this is my most expensive text to date, surpassing even the work that is connected to this DLC or its first part with the title GRATISMENTALITÄT, and a text that you will probably never fully read. GRATISMENTALITÄT and DOPPEL-WUMMS are both a poetic experimentation with political language as well as the first part of a trilogy of conceptual artworks on money. because of its price tag, DOPPEL-WUMMS will probably be forever floating and only ever experienced by myself, being paywalled, public without being public.
the good thing is: this artwork definitely has no bugs for once :)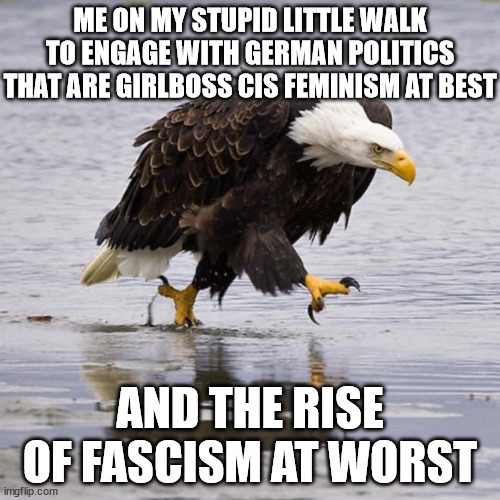 Purchase
In order to download this conceptual cash grab you must purchase it at or above the minimum price of $9,999.99 USD. You will get access to the following files:
DOPPEL-WUMMS - DLC for GRATISMENTALITÄT, a conceptual text by Luka Friedland.pdf
45 kB