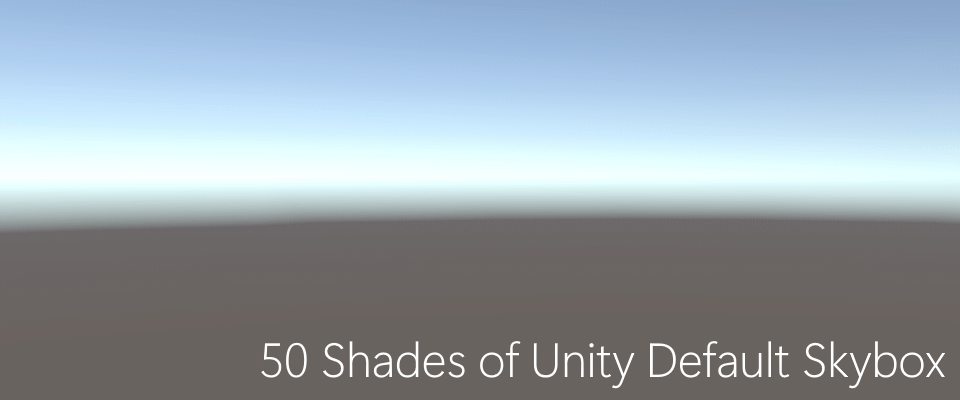 50 Shades of Unity Default Skybox
50 Shades of Unity Default Skybox is really just that - 50 variations of Unity's default skybox. There are two modes of reception of this conceptual artwork: either active or passive. By default, the passive/auto-mode is activated, and one can just sit back and relax (for some hours). But one can also deactivate auto-mode and actively interact with the two rotary controls of this retro skybox tv instead, and thus one can switch channels/skybox shades by oneself. When auto-mode is deactivated, one can also move the camera around via mouse. This is another quick conceptual sketch, and an act of appreciation of the oftentimes underappreciated procedural skyboxes in Unity. (Yes, right now I'm still working with Unity, it is a weird situation to wanting to switch to an alternative engine while seemingly just having really started learning Unity a couple of years ago. That's why I will stick with it for some time, but switch engine at some point in the future when starting to work on my bigger long-term game projects etc.)

Call me kitschy, but the soundtrack for it is Edvard Grieg's 1875 composition Morning Mood, because I could only ever imagine this soundtrack for it and the feeling I'm aiming for. I am generally (as my other game's soundtracks might suggest as well) more of a hyperpop, edm, experimental, synth, ambience or drone type of person I guess, but here you can listen to this piece of classical music. In German I might would say: Edvard Griegs Morgenstimmung ballert jedes Mal.

I'm calling this a relaxation tool, which will be the first one to be published in this category, more will follow over the following years.
This is actually one of my older game ideas not specifically made for any game jam/submission, like my recently published rant/manifesto as well, the exact date of origin is hard to trace back, as my large game idea master document was a victim of my fatal hard drive crash last year; my notes are unfortunately messy and unclear about it. But I'm quite certain that it is actually really one of my earlier game ideas of this gamedev era, meaning 2020/2021. So, I'm glad, that this idea has finally materialized now.
Unfortunately, this is also too large for a web build as well, I really would have liked it as a web experience as it would have actually fitted this specific artwork nicely. Maybe I will put it online somewhere else in the future. As of 21st October 2023, it is available as a web version too. Full screen mode is highly recommended. Downloadable files are provided as well.

For this game/tool/art thing, I used CC0 images and sounds from pikist, pxhere and pexels, as well as the marvellous freesound.org. Most notably I had fun editing an image of a lavis 612 tv. Via Wikipedia I learned something about UHF and VHF broadcasting, it says: "UHF channels are typically given higher channel numbers, like the US arrangement with VHF channels (initially) 1 to 13, and UHF channels (initially) numbered 14 to 83." I initially thought about sticking to this number of 13 channels for VHF, but it was better in the end to split them into 25 each.

By the way, in order to have some nice light effect on the screen I reused my arcade screen from Ballad of a Gambler on the Run, I'm really glad I made that.
And I even playtested the heck out of these skyboxes, I hope there are no bugs left :3
Morning Mood lives rent free in my head right now.

And look, how the 50 materials in my material folder look like!!! Isn't that
(っ◔◡◔)っ ♥ wunderful ♥ colorful ♥ ?



This relaxation tool was made in 2 days (15th + 16th October 2023 (and a bit of nights as well)), just before university starts again here, which means having to adapt to a new external time schedule, which is always quite stressful for me as a multiple neurodivergent person, especially considering that I am already laking behind schedules by years regarding the to-do-list that is my artistic practice. So I thought I should pump this one out too, and I think it turned out quite lovely, before having to deal with other stuff again. - Maybe a relaxation tool such as this one helps? // stay save, wear a mask, wear a face. "Take Care. It's a Desert Out There..." - The Caretaker in memory of and for Mark Fisher.

| | |
| --- | --- |
| Status | Released |
| Platforms | Windows, macOS, Linux, HTML5 |
| Author | luka |
| Genre | Simulation |
| Made with | Unity |
| Tags | artgame, Atmospheric, conceptual, Experimental, Minimalist, Relaxing, Retro, Singleplayer, skybox, television |
| Average session | Days or more |
| Inputs | Mouse |
| Accessibility | One button |
Download
Click download now to get access to the following files:
50 Shades of Unity Default Skybox_Win V1.1.zip
138 MB
50 Shades of Unity Default Skybox_Linux V1.1.zip
210 MB
50 Shades of Unity Default Skybox_Mac V1.1.app.zip
146 MB
Comments
Log in with itch.io to leave a comment.
Why is it almost a gigabyte?? XD Regardless, very chill piece of software!
thanks! yeah, i might know why... i will see if i can optimize/reduce file size for a future build, and maybe even create a web build then.