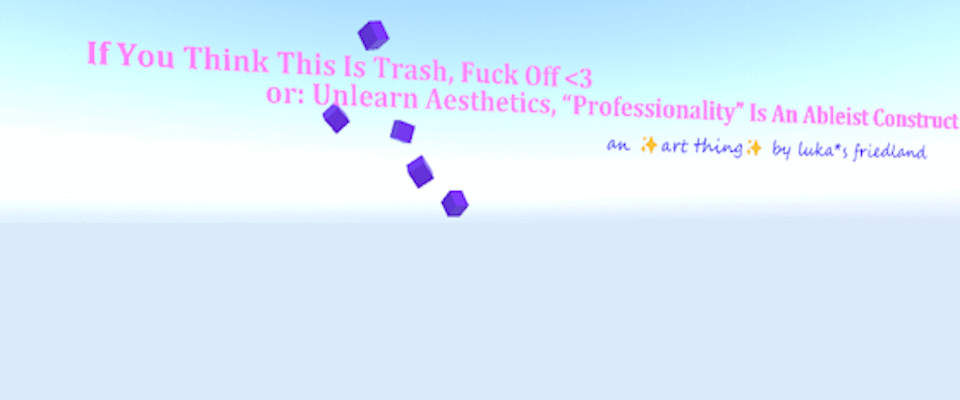 If You Think This Is Trash, Fuck Off <3 or: Unlearn Aesthetics, "Professionality" Is An Ableist Construct
"I never studied. I never did anything. I hated it so much. I hated it, like, with powerful hate. The only thing that was important is what happened outside of school, and that had huge impact on me." - David Lynch
"I never seek money. I make films to lose money." - Alejandro Jodorowsky

"This is not for you" - Mark Z. Danielewski, House of Leaves

* * *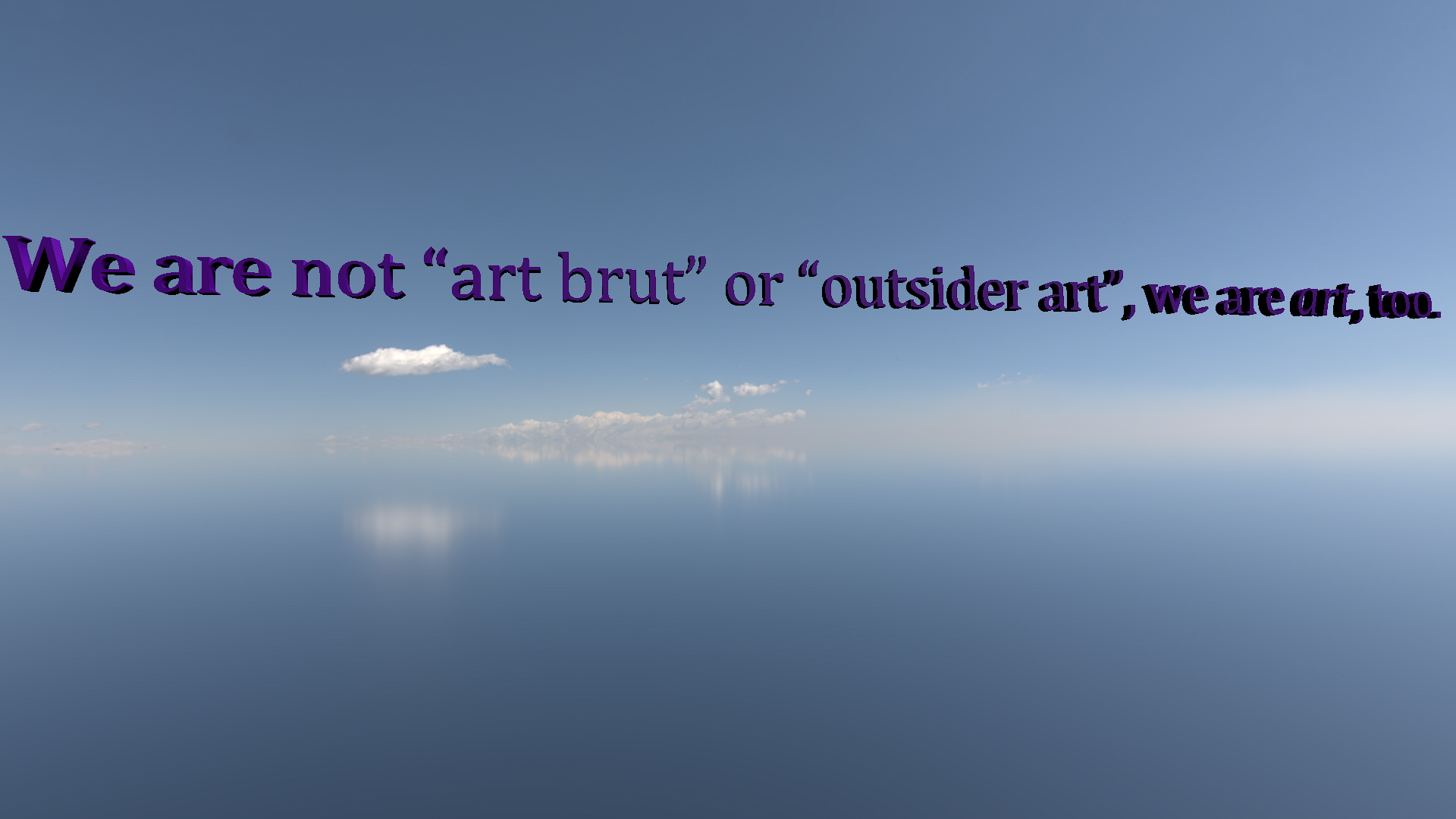 If You Think This Is Trash, Fuck Off <3 or: Unlearn Aesthetics, "Professionality" Is An Ableist Construct is a manifesto/rant; more of a video than a game really, I guess.
The runtime is about 20 minutes.

Based on a small work I created as promotional material for a workshop in 2020, which serves as an illustrative example for me here, this text is about aesthetics and Ableism. This text is from an, among other things, autistic perspective on the production of normative-neurotypical gestures at art universities. According to my notes, the idea for this originated on March 22nd 2022; I have updated it on isolated days over the past few months with new thoughts, new anger and new polemic from this summer. Specifically: 20th - 24th August, 31st August, 3rd September and 11th September, and 8th October to 12th October, which adds up to about 12 days of work.
* * *

For the fact that I promised myself to produce less autoethnographic first-person-perspective stuff, this is now quite a lot of "me" again.
There is some narration in my bad English lol. Unfortunately, the file size is too large to make it playable in the web browser - Actually no!!! I added a web build!!! Full screen mode is highly recommended. Downloadable files are provided as well.

Because I needed it for my upcoming little "Simple Acts of Navigation" game project, I learned how to make 3D text with varying fonts in Blender btw!!!!

Due to university things, I am sadly way slower in my game making process than I intend(ed) to be, there is lots of stuff upcoming, and I will try to finish and publish some more things here on itch.io in 2023. I'm also working on a (new) website, it will be slay!!!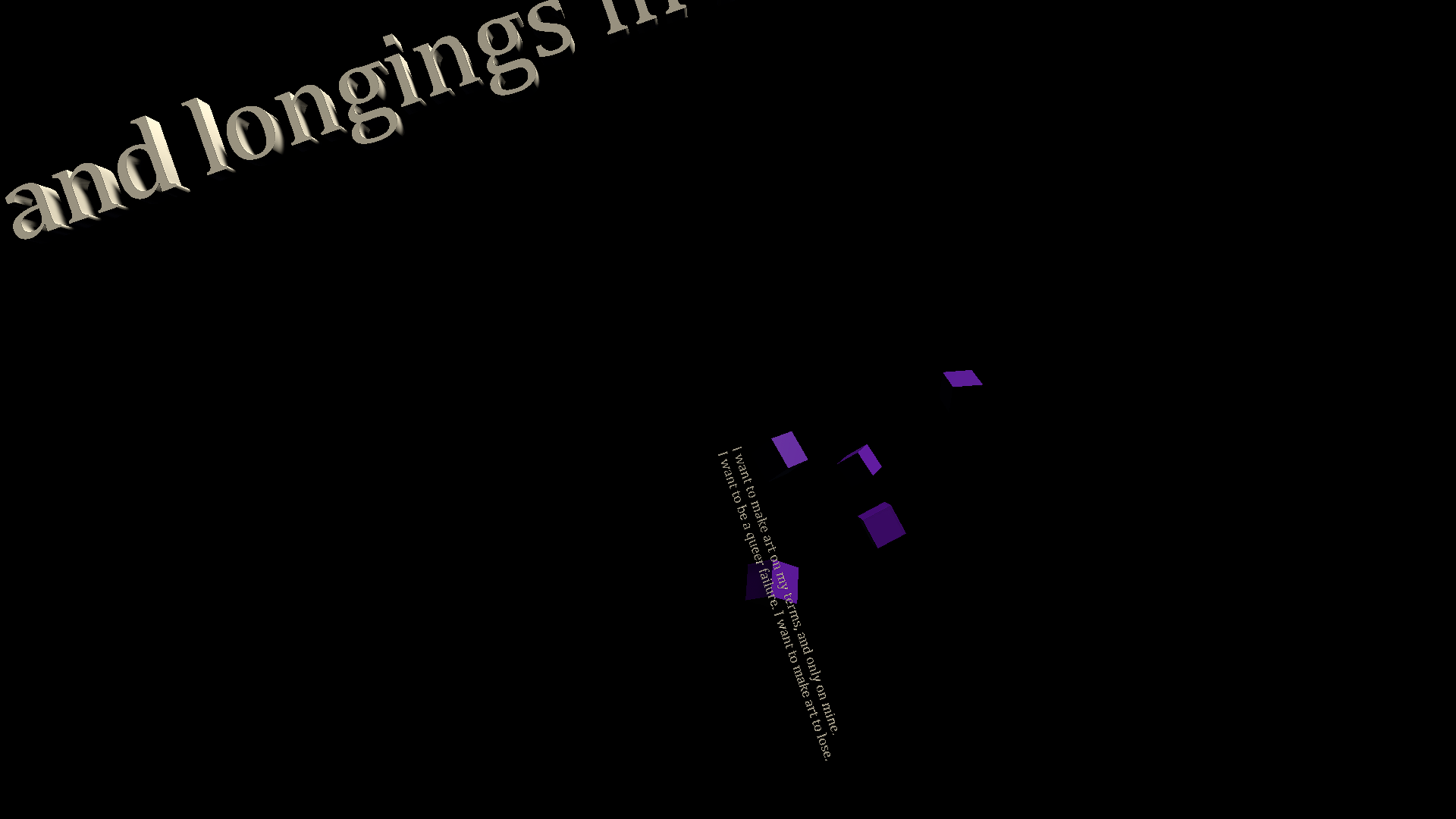 * * *

quoted/referenced texts:
Butler, Judith (1990): Gender Trouble: Feminism and the Subversion of Identity. Routledge, New York and London 2006 [1990].
Farrokhzad, Athena (2018): Open Letter to Europe
Price, Devon (2023): How Do I Cope With Anti-Autistic Bias?
Ruberg, Bo (2017): Playing to Lose: The Queer Art of Failing at Video Games. In: Malkowski, Jennifer and Russworm, TreaAndrea M. (Eds.): Gaming Representation: Race, Gender, and Sexuality in Video Games. Indiana University Press, Bloomington (IN) 2017. pp. 197-211.
Young, Stella (2014): I'm not your inspiration, thank you very much

(While uploading this project, I instinctively had to listen to Always by Erasure. Maybe it vibes with this artwork?)

| | |
| --- | --- |
| Status | Released |
| Category | Other |
| Platforms | Windows, macOS, Linux, HTML5 |
| Rating | |
| Author | luka |
| Genre | Educational |
| Made with | Unity |
| Tags | 3D, artgame, Experimental, manifesto, Minimalist, rant, Short, Singleplayer, Text based |
| Average session | About a half-hour |
| Languages | English |
| Inputs | Keyboard, Mouse |
| Accessibility | One button |
Download
Click download now to get access to the following files:
If You Think This Is Trash_Win.zip
291 MB
If You Think This Is Trash_Linux.zip
307 MB
If You Think This Is Trash_Mac.zip
300 MB
If You Think This Is Trash, Fuck Off_a text by Luka Friedland.pdf
107 kB