Theatrical Elegy for the Age of Machines and Dead Matter, or: All the Quiet Processes Beneath Alien Presences
A downloadable cave exploration for Windows, macOS, and Linux
Theatrical Elegy for the Age of Machines and Dead Matter, or: All the Quiet Processes Beneath Alien Presences is a 19th century cave exploration, feat. steampunk, machines, alien presences, theatre, science fiction and projections.
A Game I made for the Secret Santa Jam 2021 within about 12 days in December 2021, dedicated to/inspired by a letter by David Stark - Zarkonnen.
Credits for the music in the Credits Section and the Pause Menu: Sicilienne For Violin And Piano, composed by Maria Theresia von Paradis, performed by Stefano Ligoratti (CC by 3.0), orangefreesounds.com.
* * * POSSIBLE SPOILERS BELOW * * *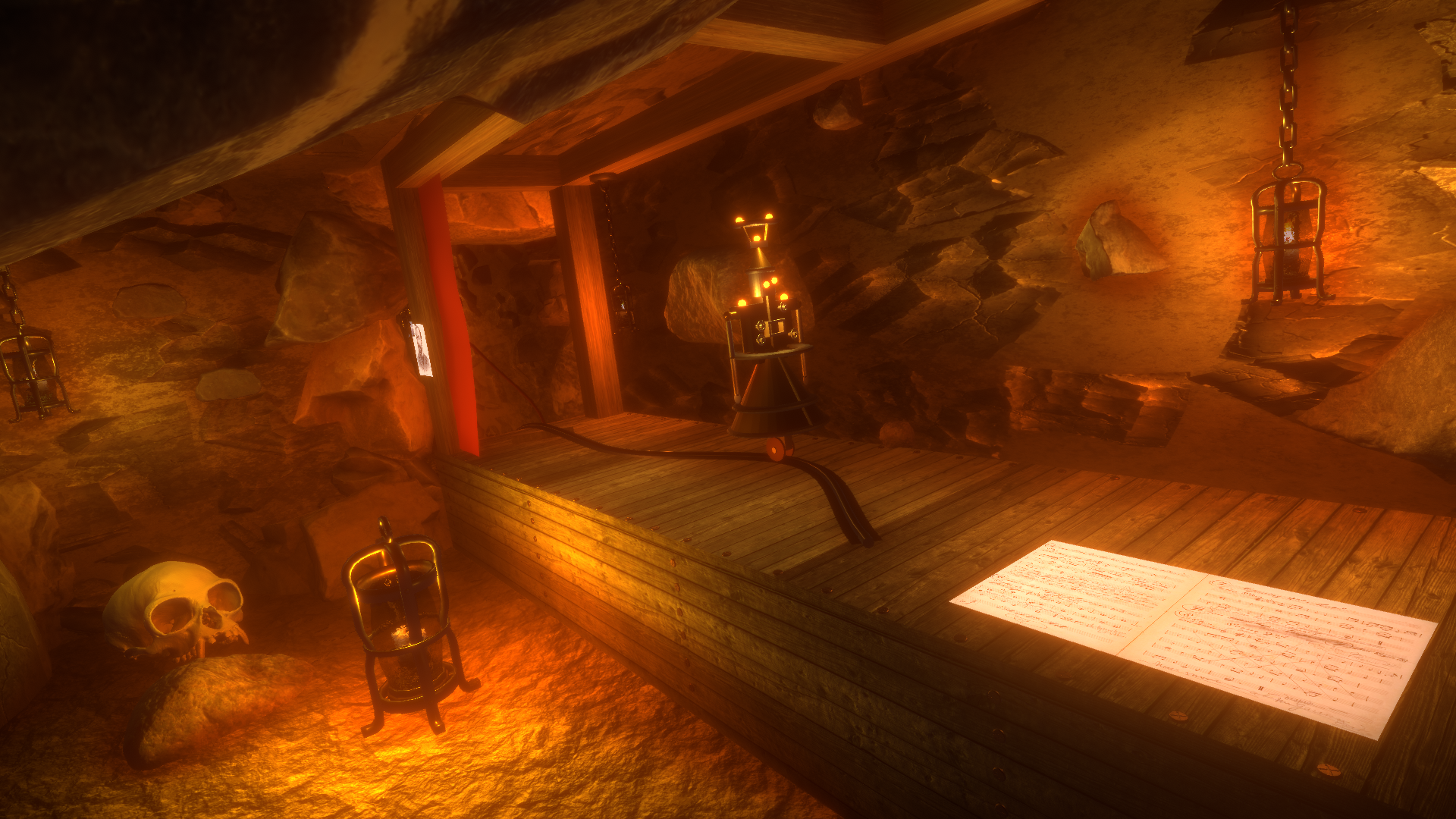 Quoting the following texts:
The Google Translator Voice proclaims an extract from the List of wars by death toll from Wikipedia.
Using Assets from the Unity Asset Store, CC0-Assets from the Smithsonian Digitization and CC0-Pictures from Picryl and CC0-Sounds from freesounds.org. Some of the projected pictures are also taken from this article/Wikimedia. Some of the other projected images (WELCOME, the ad message, GOODNIGHT) are actually from the beginning of the 20th century, these strange movie theatre etiquette posters were used in 1912, but I found them way too hilarious to not include. Therefore, it is more of an atmospheric Zeichenraum (a space filled with intertextual and intermedial references, cultural signs, signified and signifiers, symbols, dense surface spectacle) than an actual coherent historic representation, more of science fiction than educational, more of an art piece than a research.
* * *
What an interesting project! I'm glad I participated in this game jam and learned a lot, for example the use of splines, I created and animated my first model in blender (the dancing robot <3) and generally I was aiming towards a more detailed and realistic approach in regards to the 19th century and more cinematic effects. I tried to combine the letter I received with my own interests, artistic vision and aesthetics. The choice to add a player's arm to the lantern was a last minute one, as was the decision to make it metallic/robot-like too, but I really like the implications it adds to the environment and setting, the post-apocalyptic/post-humanity vibes and the purely mechanical, non-emotional perspective machines could have on human history and culture. It was quite hard to research some composers from this time period who aren't cis male and someone performed their compositions to use for free, but I included at least Maria Theresia von Paradis and Tekla Bądarzewska-Baranowska. (At first I wanted to learn how to read sheet music and play/code all the music myself using Sonic Pi, but that's a task for another project and I also still have to practice using it.) Initially I wanted to include biology-like drawings of aliens to be projected and wanted to project real video files (a problem I was also confronted with in my recent performative reading video for SEHR ERNSTE Wien, overlapping with this game's time of production) - I kinda faked with the images, so that's something I would love to see in my future projects, for heading towards my plans for an authentic digital theatre experience. I hope I can develop more of my main and more iterated projects without a time limit during the next year(s). Right now I'm very excited for the future regarding my upcoming games.
I wish you a pleasant end of the year.
~ luka, 19th December 2021
"WHAT HATH GOD WROUGHT" - Samuel F. B. Morse, 24th May 1844
19th century music in order of appearance: Gymnopédie No. 1 by Erik Satie; Für Elise by Ludwig van Beethoven; Carnival of Animals - VII. Aquarium by Camille Saint-Saëns; A Maiden's Prayer by Tekla Bądarzewska-Baranowska; Symphony No. 5 by Ludwig van Beethoven; Sicilienne for violin and piano by Maria Theresia von Paradis (but it might actually was composed by Samuel Dushkin and in that case it would be from the early 20th century; I'm failing my own expectations yet again; history is a strange and messy construction)
| | |
| --- | --- |
| Status | Released |
| Platforms | Windows, macOS, Linux |
| Author | luka |
| Genre | Simulation |
| Made with | Unity |
| Tags | 19th-century, 3D, Atmospheric, Experimental, Exploration, First-Person, Historical, Singleplayer, Walking simulator |
| Average session | About a half-hour |
| Languages | English |
| Inputs | Keyboard, Mouse |
Download
Click download now to get access to the following files:
Theatrical Elegy for the Age of Machines and Dead Matter_Win.zip
674 MB
Theatrical Elegy for the Age of Machines and Dead Matter_Mac.app.zip
686 MB
Theatrical Elegy for the Age of Machines and Dead Matter_Linux.zip
696 MB